Making Connections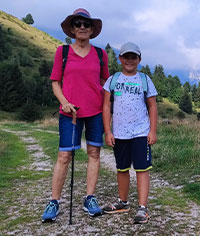 Judi with her nephew Enrico in
the mountains above Recoaro
in the Veneto
Woven through Judi Mariggio's fascinating life is a consistent thread - her remarkable ability to connect with people and connect others. Whether online or in-person, Judi has a gift for engaging with friends. As an active member of Class of 1969, Judi has inspired classmates to reconnect with each other and the College and contribute time and resources to support Conn today.
Judi credits Jan Hersey (Dean Emeritus of Admissions) and Vera Snow (admission staff member) for her decision to attend Conn. "They were the two people I knew, and that was all it took to get me hooked." Coming from a large suburban public high school, Judi intentionally chose a small college for the opportunities offered in a close-knit community. As a Classics major and an Education minor, Judi planned to go into higher ed administration - inspired by Jan Hersey. After Conn, she attended the University of Pennsylvania Graduate School of Education. Over her varied career, Judi not only worked in higher ed administration but a variety of business ventures.
But it was on a trip to Florida in 1980 that she met the person who would change her life's trajectory - her husband, Giovanni. "On the fourth of July, I met this Italian man on the beach who was 22 years older than I was. I moved here on Halloween, and we were married the following August. We were together until he died in 2021 at the age of 95, so we had a long life together."
Thus began Judi's love affair with Italy. As Judi says, "After a couple of visits, I felt completely at home." In 2022 that dream became a reality. "Last fall I sold my condo and many belongings and came over here with my photo albums and my yearbooks and some small mementos. I've gone from living in southeast Florida to living in Canale, a town in northwest Italy with fewer than 6,000 people, where I can walk to everything that I need." From Italy Judi continues to be an invaluable ambassador for the College and a beloved member of her class, serving as class correspondent.
A generous supporter herself, Judi has been a motivating force for classmates, encouraging others to give at a level that works for them - which has resulted in record participation. In honor of their 50th Reunion, the Class redid the Plant Residence Hall common room. Judi recalls, "Having been a residence hall director, I remember gatherings in the living rooms and faculty coming for tea. And I know that these opportunities have continued, and I wanted to support them. Relationships with faculty are enhanced when they become involved with you where you live, not just sitting in their office. I think it's important to have good mentors and people whom you respect who will listen to you as much as you listen to them."
Judi has also given back in other significant ways. "When I had a better feel for my future, I decided on a charitable gift annuity because I wanted to do more for the College - but I also wanted to have some benefit. I needed the security of knowing that it was providing me with something in addition to the tax advantage of doing it that way." When she sold her condo in Florida, she decided to name Conn in her will, directed to residential life.
Judi is also one of the core supporters to establish a new Connecticut College for Women Alumnae Scholarship that will be matched by the Hale Scholarship Initiative. "I am proud of Connecticut College today and its global outlook, of the inclusiveness and the intellectual challenges it provides, and where it is headed. But I really wanted to acknowledge its beginning as a women's college. I think that is such an important part of the story of this special place and that the institution needs to remain proud of that part of its history. Not only for what it stood for institutionally but for the amazing women who came out of it."
© Pentera, Inc. Planned giving content. All rights reserved.
Disclaimer