Defying Boundaries with Bequests - Igniting Student Life Through Outdoor Education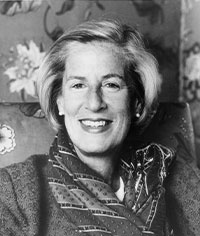 Dorothy "Dot" Hyman Roberts '50, who passed away in June 2020, was the charismatic matriarch of Echo Design Group, the company her parents founded as Echo Scarfs Inc. in the early 1920s in the heart of New York City. Under Dorothy's leadership, the company experienced unprecedented growth - establishing partnerships with Ralph Lauren and a variety of private label accounts including Coach, Talbots, J Jill, Brooks Brothers, and MoMA.
A lifelong New Yorker and longtime resident of the Upper East Side, Dot took advantage of everything the city had to offer; she was a lover of theater and New York's many museums. But she also believed strongly in the importance of spending time in nature. "Believe it or not, Dot was a junior Maine guide when she was younger. While she loved New York City and all the cultural richness found there and throughout the world, she also believed in wellness and the joys of the outdoors. Part of her great strength was her unbelievable balance and comfort in so many situations and knowing that she had the skills, confidence, and fortitude to embrace what was known and unknown," said her son Stephen Roberts.
Dot remembered Connecticut College in her estate plan, and her gift has been directed to establish the Dorothy Roberts '50 Outdoor Education and Leadership Fund. The fund is supporting Outdoor Adventures, a grassroots program founded by students more than four years ago that provides outdoor education and leadership opportunities. Since its inception, the popularity of Outdoor Adventures' offerings has been overwhelming. When released, trip registrations fill up within one day. Geoff Norbert, assistant dean of student engagement and new programs, says the impact the program has had on the student experience "has been a privilege to watch." Dean Norbert guided the spring break 2022 Outdoor Adventures program held in the White Mountains of New Hampshire and the Green Mountains of Vermont, with one week focusing on student leadership training and another with those leaders guiding student participants.
The fund will help develop student leader wilderness training as well as purchase equipment to launch a sea kayaking program and equipment for snowshoeing, winter hiking, backpacking, and climbing. It will also help eliminate financial barriers that may prevent students from participating as they pursue opportunities for bonding, reflection, challenge, and personal growth.
"There is so much to benefit from learning about nature and being with peers and trained leaders as they experience the outdoors, its challenges, beauty, and ecosystems - pushing one out of one's own comfort zones," says Stephen Roberts. "We are pleased the Outdoor Adventure program will honor our mother and that the program will develop leadership training into an even more important part of students' experiences as they learn and grow."
© Pentera, Inc. Planned giving content. All rights reserved.
Disclaimer