The Impact of Bequests - An Important Gift to Athletics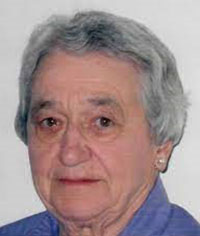 Patricia Robinson '47 was an athlete. At Connecticut College Patricia was a three-sport standout, serving as basketball and softball captain while also playing field hockey. Patricia also helped lead a successful student movement to resurrect the College's athletic program after it was discontinued during World War II. Upon graduation Patricia taught physical education at Bates College and at the University of Connecticut, where she was a member of the Physical Education Department for more than two decades. Celebrating her many athletic accomplishments, Patricia was inducted into the Connecticut College Athletics Hall of Fame in 2006.
Last year the College learned of Patricia's passing and that we were a significant beneficiary of her estate. Patricia's bequest has been directed to support one of the athletics priorities within our strategic Action Plan for Competitive Success: promoting coaching excellence. We did not know of this generosity during Patricia's lifetime and, unfortunately, did not have the opportunity to thank her while she was living and share our gratitude for the significant impact Patricia's bequest will have on Conn athletics.
Sean Fox '23, a lacrosse player, shares the importance of coaching: "Being a Head Coach in the NESCAC is no easy task, but I think Coach Nagle has done a great job in his beginning years implementing the principles of a good team culture revolving around competitive success, accountability, and community. Coach Nagle has taught me many things about my attitude on and off the field and how to handle myself in the face of adversity. He has challenged me day in and day out to always carry a positive attitude whether that be at practice or in the classroom, not only for the betterment of the program but for our Conn Community."
We are grateful to Patricia Robinson for her love and support of Connecticut College through her estate plan.
© Pentera, Inc. Planned giving content. All rights reserved.
Disclaimer