Carol Ramsey '74 Makes Bequest to
Support Conn's Future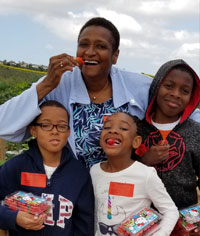 One of life's lessons that my four years at Connecticut reinforced was the obligation to make the most of what you have. Despite the might of some of our larger, richer, and older competitors, Connecticut always seemed to find the way to be competitive, forcefully present, and undeniable in the sway of higher education. We were small, but we were mighty—whether it be our sports teams, our students' achievements, or the world-class quality of our faculty.
As a former trustee of Connecticut and several other private secondary schools, I have learned to apply the principle of "small but mighty" in the choices I have made in my own affairs. Having worked for nonprofits most of my career, I was never going to be among the largest donors to the school; but I understood that I could still be among the more consequential. Making a bequest to the College in addition to my usual annual fund gifts—as modest as I may think they are—sum to something substantial. I leave a window open to the next generation of students, even if I cannot build the building whose doors they will walk through. Who knows? As was the case when I attended Conn, we produced stellar admissions results, record-breaking donations, athletes who competed on an Olympic level, and scholars who were world-class thinkers and doers. That is the goal of my gift. That is the possibility it enables.
© Pentera, Inc. Planned giving content. All rights reserved.
Disclaimer