Susan Mabrey Gaud '68 P'07: The Confidence to Achieve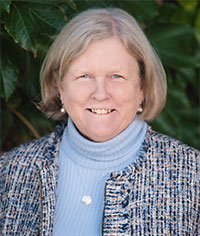 Susan Gaud's road to Connecticut College began with a fortuitous meeting. While serving as an usher at the national doubles tennis tournament at Longwood Cricket Club in Chestnut Hill, Massachusetts, Susan met Francis Brett, an associate professor of physical education and an associate in the Office of the Dean at Connecticut College. Frances was responsible for organizing the ushers at the tournament. At Conn, Frances was also in charge of housing. "When Miss Brett learned I was entering Connecticut that fall," Susan said, "she placed me in a dorm with people who she thought would have like interests. I remain friends with that group to this day.
"One of the things I liked about Conn was the opportunity to explore many subjects. I knew I wanted to be a chemistry major and pursued that course of study, but I really took advantage of the core curriculum requirements. For example, I had to take philosophy or religion and then a history course to fulfill my requirements. I chose philosophy and then went on and took more philosophy and explored history even further. The broad range of classes to which I was exposed remain relevant today. For example, the Social History of the United States is such a class. Strong relationships with the faculty were also very meaningful.
Susan recalls, "when I went to graduate school at Northwestern in chemistry, I had no problem knowing how to study and bring myself up to speed. Connecticut taught me well." Susan went on to a postdoctoral fellowship in chemistry at Yale. "I think I had the confidence that I could do it." Susan recalls some challenging experiences in a male-centric chemistry lab. "A benefit of going to a smaller school like Connecticut is the confidence that you develop and the ability to boldly face challenges; that has served me well."
Following her postdoctoral studies, Susan moved back to Chicago. She worked at Kraft Foods for almost 30 years in the research and development division. She got an MBA from the Northwestern University evening program. Susan held many different positions in her years at Kraft and retired as the director of external science and technology.
When Susan visited Conn with her high school son, Henry Gaud '07, she recalls that he was impressed with the admissions office tour. They stopped to see George Willauer, now professor emeritus of English, to say hello at his office in the old library. Susan says, "I never had a class from him, but he was a dorm-adopted faculty person and came to dinner often. I got to know him, and we've remained friends. When I mentioned that Henry was in the car, George said, 'I'll come down and say hello.' My son was so impressed. He remarked, 'I can't believe that he still knows you!' " Susan and son Henry both value the quality of the education, the opportunity to excel in athletics, and the strong faculty relationships they developed at Conn.
Last year, after months of consideration and discussions with her financial advisor, Susan established a charitable gift annuity (CGA) with Connecticut College as part of her strategy for smart financial planning. "Supporting education has always been a priority for me, and I think Connecticut is definitely the right place to benefit. I had a great experience at Connecticut, and so did my son." Susan has directed her CGA to the chemistry department. She will receive a fixed quarterly income for the remainder of her life. Today Susan is president of her class and serves the College as a member of the Alumni Board, roles she finds very rewarding and inspiring.
© Pentera, Inc. Planned giving content. All rights reserved.
Disclaimer