A Life Transformed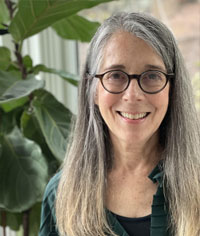 Sherryl Goodman's love of learning was ignited and she discovered her life's work during her time at Connecticut College, so it is fitting that her introduction to Conn had a storybook quality to it—a harbinger of the transformative experience to come. As she and her parents drove onto the campus to visit on the first day of May, they encountered a group of students dancing around a Maypole holding gorgeous banners. For Sherryl, that was it. As she says, "I fell in love with the school."
Growing up in southeastern New Hampshire, the daughter of parents who had not had the opportunity to attend college, Sherryl did not enjoy school during her high school years and was uninterested in "doing work for the sake of doing it." All that changed during college. She had intended to major in math, a strength in high school. But when she lacked a necessary course, she considered the lab sciences. Although she did not know much about psychology, a lab science at the time, she took a course and was immediately fascinated by the discipline.
Taught by "masterful teachers" over the next four years, Sherryl found her true calling. Her professors, who were also researchers, brought what she was learning to life, and she was able to see her role in what she was studying and how she could contribute to the field. During her time at Conn she had the opportunity to design her own research studies, work at the child development center on campus as well as a child mental health clinic off campus, and complete a fellowship during the summer where she interviewed children and collected data at the local Head Start Center.
Through these experiences, Sherryl was able to envision what she wanted to do professionally and shared that idea of becoming a developmental clinical psychologist with her advisor, John Mackinnon, now professor emeritus of psychology. Professor Mackinnon explained that she needed to get a Ph.D. Sherryl recalls now, with a sense of amusement, that she answered, "What's that?" Professor Mackinnon recognized Sherryl's ability and commitment and guided her through the process of applying to the University of Waterloo where a new clinical psychology program had recently been established—a situation he felt was a perfect fit for Sherryl. She was accepted and finished her Ph.D. after four years at Waterloo and a one-year internship at Duke University. After graduation, Sherryl accepted a position at Emory University in Atlanta where she has been a professor for the past 45 years. She says of Professor Mackinnon, "I owe him my career."
For a while now, Sherryl has had Connecticut College in her estate plan. She shared her plans with the College and learned about a way to help students who, like her, were the first in their family to attend college. In honor of her upcoming 50th Reunion and her seminal experience at Connecticut College, Sherryl decided to direct her bequest to establish a named endowed scholarship fund with a preference for first-generation students. Reflecting on her own success, Sherryl understands the critical importance of providing opportunities for talented students who may be unfamiliar with the college process or don't have the means to attend, and she wants to help ensure that all deserving students have the chance to realize their full potential. Sherryl hopes that her gift will inspire her classmates and others to make gifts during their reunion year.
© Pentera, Inc. Planned giving content. All rights reserved.
Disclaimer