A Half Century Relationship with Connecticut College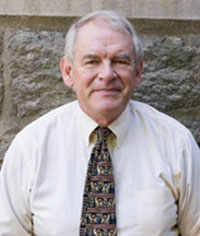 Dave Clark '73 was one of the original Larrabee men who arrived at Connecticut College as coeducation began in 1969. Amazingly, Dave has returned to campus every year since and attended all of his class reunions. A recognized alumni leader and active volunteer, Dave has chaired past reunions, served as a class president and alumni board member, and was president of the Maine Alumni Club where he was a member for 25 years. Every year Dave mails happy new year camel-themed cards to the few men in his class and sends Valentine's Day camel cards to the women, and he is a tireless correspondent—sharing the latest news from the College with others.
Dave majored in government and quickly found extracurricular activities to be his 'minor.' He was active with student government, the student newspaper, and WCNI radio station, served as a housefellow, and was a charter member of the men's basketball team. In January 2020 Dave returned to campus to celebrate the 50th anniversary of men's basketball at Connecticut College.
An avid outdoor enthusiast, Dave has climbed all of the 4,000 foot peaks in Maine and enjoys canoeing, camping, and swimming. His other love and favorite charity besides Connecticut College is Camp O-At-Ka in East Sebago, Maine. Now retired in Florida with his wife Phyllis, Dave enjoys returning to New England often to visit both college and camp and mentor young people at both places.
Dave looks forward to celebrating his 50th Reunion with his class in 2023 and is thinking of creative ways to encourage younger classes to give for their reunions. At the 2018 Commencement, he pledged a $18,073 gift to be spent by the class of 2018—providing they break the attendance record for a fifth reunion. Dave says, "that's one of the blessings of being affiliated with our College for more than 50 years now. The thinking and planning and execution evolves with the times, but the mission of educating young women for a century and young men for half a century continues to mean we contribute amazing alums to help make our nation and our world a better place." He challenges other alums to be the rich aunt or uncle that can make a gift to a younger class so that they can determine where the money should go and help set our priorities.
When considering his legacy at Connecticut College, Dave did not hesitate to name the College as a significant beneficiary of his estate. A former member of the Planning Board in Falmouth, Maine, Dave believes in planning for the future; and after several recent health scares, Dave feels comfort knowing that his estate plan is in place. Dave documented his bequest with the Office of Gift Planning through a bequest intention. Dave realizes that estate gifts are a crucial component of continuing support for Connecticut College and decided to direct his estate gift to the area of greatest need, fully trusting that future College administrations will confidently and wisely use his gift to further excellence in liberal arts education and prepare students for lives of meaning and purpose.
Gifts through estate plans and other testamentary gifts have nurtured the College's financial strength for more than 100 years. By following in Dave's footsteps and documenting your own bequest to Conn, you, too, can inspire other alumni, family, and friends to honor the positive impact Connecticut College has had on so many lives.
© Pentera, Inc. Planned giving content. All rights reserved.
Disclaimer