A Lifelong Commitment to Education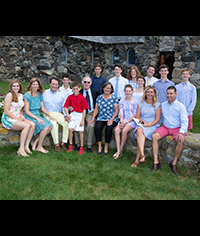 Marcia Hunter Matthews '67 and her husband Bill Matthews have committed their lives to education. They spent 45 years at St. Paul's School in Concord, New Hampshire, where Bill taught, coached, and served as headmaster (rector) from 2005 to 2011. Marcia taught elementary school and was a reading specialist for nearly 30 years in the Concord school system before her retirement in 2005.
"My husband and I have always been in education and feel strongly about giving back to our schools and colleges," says Marcia.
Marcia has been a consistent and generous donor to the Connecticut College Fund and recently established a charitable gift annuity with Connecticut College designated to the Class of 1967 Scholarship Fund.
"We believe in the critical importance of financial aid, so I was really delighted that I could support the scholarship fund. And I like the idea that I can give this gift and still get some money back during our lifetimes. The College is also remembered in our will," says Marcia.
Connecticut College has played an important role in Marcia's life over the years. She remembers how excited she was when she received the telegram saying she had been taken off the waiting list and would be starting at Connecticut College in the fall of 1963. "I arrived in September and was paired with the most wonderful roommate who is still one of my very best friends today, Judy Rosman Hahn '67," says Marcia, who went on to receive a degree in sociology and a teaching certificate from the College.
Marcia has been an involved volunteer, serving as class correspondent and class gift officer. She chaired the 35th Reunion committee along with classmate Nancy Blumberg Austin '67, a longtime friend, and continues to work on class notes with Debby Greenstein. "I didn't really know Debby in college, so it was wonderful to have the chance to become friends. And it was delightful for me to be able to work as an editor on our 50th reunion yearbook with Debby Greenstein, Nancy Blumberg Austin, and Rita York Fogal. It's the relationships, both new and old, that have meant so much to me throughout the years.
"I am very happy where the school is today and where it is going," said Marcia. "I think Katherine Bergeron is fabulous. I love going to events where she is speaking and hearing about what the College is doing for young people today."
Marcia's gift of a charitable gift annuity was simple and easy to execute. The annuity is soundly managed under the direction of the Connecticut College Finance Office. Marcia and Bill will receive quarterly payments for their lifetimes; and when the annuity terminates, the gift will be directed to the designation of her choice. Should Marcia wish, she can establish another gift annuity at any time with either cash or appreciated securities.
"I am so grateful to Connecticut College for a wonderful education and the friendships I made there."
© Pentera, Inc. Planned giving content. All rights reserved.
Disclaimer