Heather Morrison '69 Makes Bequest to Conn to Support Quality Education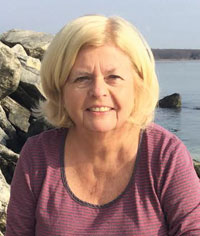 What brought you to Connecticut College as a student?
I attended a very large high school in Evanston, Illinois. My graduating class was over 1,000 students, so a smaller school had appeal. My parents were originally from the Northeast and I had family there, so it was a logical place to look at colleges. One of my cousins was at Conn when I was looking, so I felt a connection. I was so sure that the fit was right for me that I opted for early decision.
What is your most significant College memory?
I remember being scared to death of my first class with Marjorie Dilley, who was head of the Government Department. She had a reputation for being very tough. She used the Socratic method for teaching and required all of her students to think, articulate and back up their arguments. What an intellectually expanding experience! In my senior year, she was my advisor for an independent study that I completed on The Federalist Papers. During that semester, I met with her once a week and had the privilege to learn from her scholastic rigor.
How did your years at Conn impact your life after college?
I didn't think about how Conn impacted my life until many years after graduation. When I eventually reflected on my career, I realized that Conn helped teach me to listen when necessary and speak up when necessary. My experience at Conn gave me confidence in my own abilities and my own voice. The professors clearly had respect for us as students and enabled us to become better thinkers.
What motivates you to give back to Connecticut College?
My parents were philanthropic, so there's a family tradition of giving back. Education has always been a family priority, so I started giving to Conn regularly. It wasn't much, but it was important to me to participate. It was when one of my sons graduated that I started being more thoughtful about my giving. Conn is a relatively new school, so it doesn't have the luxury of a large endowment. In addition, a large percentage of students receive financial aid. There is a real need for support to provide today's students the same quality education that we experienced.
What motivates you to give back to Connecticut College through a bequest specifically?
A bequest to Conn allows me the opportunity to give more than I can give annually. My bequest isn't huge, but I feel it will have an impact. Bequests can be unrestricted or directed to a particular program of importance to the donor.
Why would you encourage other members of your 50th Reunion Class to do the same?
It's our 50th Reunion year, which is a pretty big deal. In fact, the great Class of 1969 will be the centerpiece of Reunion 2019. It's also a chance for reflection. What better time to consider including Conn in your estate plan?
© Pentera, Inc. Planned giving content. All rights reserved.
Disclaimer