Trustee Karen Quint '87 Makes Gift to Conn for Helping Her Find Her Voice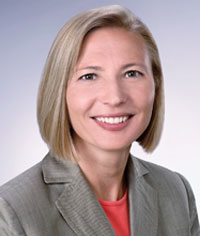 A native of Maine, Karen Quint '87 was well aware of the stellar reputations of many New England schools. As the daughter of two teachers, she also understood the importance of an education. She received that, and much more, at Connecticut College.
When Karen considered a legacy planned gift to the College, her financial and tax adviser recommended naming the College as beneficiary of her retirement plan. This would be the simplest way for her to make a planned gift, support the College and reduce her taxes. Karen's planned gift will provide unrestricted support to Connecticut College, allowing the College to use these funds where needed most.
"The college experience is one of the most impactful experiences in a person's life, and it is a privilege to have the ability and opportunity to give back in such a meaningful way," said Karen.
From the model of shared governance to the Honor Code, Connecticut College instilled in Karen the firm belief that she had both the opportunity and responsibility to voice her opinion. As a student, her access to faculty, staff and even the president deepened her confidence in articulating her opinions and standing up for her beliefs.
The ability to talk with the president of the College about any number of topics made an incredible impact on Quint. "I gained the confidence that my opinions and thoughts mattered. This went a long way in instilling in me a level of confidence and presence that has been crucial to my professional success."
It was through the career office at Conn that Karen received her first job opportunity in what would ultimately be her lifelong career. The ability to explore the intersection of her interests, skills and career opportunities opened up an entire sector that she had previously been unaware of: executive recruiting. And while she didn't know what it entailed, it turned out to be everything she was looking for. She started her first position in 1989 and has never looked back.
"While going through the estate-planning process, it is natural to think of those you want to remember who have helped to shape your life," Karen concluded. "Connecticut College has had such an impact on my life; it was only natural to be sure Conn was a part of my plans."
© Pentera, Inc. Planned giving content. All rights reserved.
Disclaimer