Scott Hafner '80 Makes Planned Gift—Names the College as IRA Beneficiary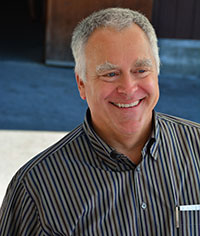 Scott is a native Californian who knew early on that he wanted to attend college in New England. Upon arriving at Connecticut College in 1976, Scott found himself in a challenging and rewarding environment that nurtured his interest in European history. He fondly remembers the time he spent studying under Professor Helen Mulvey, the Brigida Pacchiani Ardenghi Professor Emeritus of History. He cherishes the close friendships he made and the welcoming community that loved and encouraged him.
Scott's deeper connection to his alma mater came in the years after he graduated. Over the past 35 years, he has served the College as a volunteer in almost every capacity possible: Class Gift Chair, Class President, Reunion Chair, Alumni Association Board Director and, most recently, as a member of the Board of Trustees. As an Emeritus Trustee, his current volunteer role is Co-chair of the Council of Former & Emeritus Trustees.
Scott has been generous to the College with both his time and financial support. "I'm privileged to be part of this community, and with that privilege comes an obligation to give back."
Scott has chosen to invest in the College with yearly contributions and has committed to a planned gift to the College. Scott has made the College a beneficiary of his IRA, which offers the flexibility to adjust his contribution over time.
Scott and his husband, Bill, have chosen to make Connecticut College a philanthropic priority because they know that the full cost of education is never covered by tuition. Scott recognizes that he benefitted from the tuition his parents paid and from the generations of alumni who came before him.
"It's not lost on me that almost all of those alums were women. I benefitted from their generosity yet never knew them. I feel an obligation and a responsibility to pay that generosity forward to the next generation of students who I will never know."
© Pentera, Inc. Planned giving content. All rights reserved.
Disclaimer