Deborah (Debby) Greenstein '67
Degree: B.A. in Economics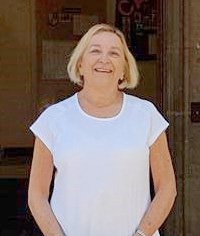 Paying Back; Paying Forward with a Gift in Her Will
In her 50th reunion year, Debby Greenstein '67 reflects on how she came to Connecticut College. Growing up in a small town in New Jersey, Debby knew nothing of private schools, travel, and people whose parents had cocktails before dinner. After her father fell ill and was out of work for several months, money was tight. It was understood that Debby would be attending Douglas College, part of Rutgers University, where her New Jersey State Scholarship would cover her tuition.
Then, a letter from Connecticut College arrived and Debby's whole world changed.
"Connecticut College opened a new world for me," said Debby. "The generous scholarship and loan package they offered allowed me to attend this wonderful place, and I have been grateful ever since."
Knowing the value scholarships have to their recipients, Debby's goal after graduating was to repay the full value of four years of scholarships—doing so sometimes $5 or $10 at a time. As she advanced in her career, she was able to repay the full value of the scholarship and then some.
"It is important to me that others are able to come to Connecticut College and receive the same gifts that I did: an excellent education; an appreciation for art, culture, and travel; a feeling of personal and intellectual confidence; and friendships that last a lifetime."
In addition to supporting the CC Fund every year since graduation, Debby has also written Connecticut College in her will—enabling her to continue providing much needed financial resources for generations to come.
© Pentera, Inc. Planned giving content. All rights reserved.
Disclaimer