Evelyn Salinger '58 Funds Trust to Support Liberal Arts Education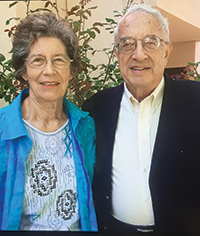 When Evelyn Salinger '58 was in high school in Irvington-On-Hudson, New York, girls were discouraged from expressing opinions or taking leadership roles and were not empowered to be equal members of society. When it came time for college, she chose Conn—at that time an all-women's college.
"I never once felt uncomfortable, unwelcome or unsupported at Connecticut College," said Evelyn. "The encouragement from faculty, staff and my fellow classmates enabled me to flourish academically and personally. I was finally able to truly be myself."
Evelyn, now living in Albuquerque, New Mexico, with her husband Gerhard, decided to honor this new perspective by making a legacy gift to Conn. They chose a charitable remainder unitrust, or CRUT, a type of income-generating gift that makes payments to a family member during her lifetime, with the remainder going to the College. In addition, as the CRUT investment grows, the payments also increase.
Funding the CRUT with appreciated securities reduces the original cost compared to cash because donors do not have to pay tax on the capital gain and the contribution allows for an income-tax deduction.
Evelyn Salinger '58 and her husband Gerhard chose Conn because they believe in the longevity of Connecticut College and know their gift will make a greater impact than one made to a larger school with a bigger endowment. Evelyn believes that by joining her gift with many others, she can help Conn continue the traditions of a liberal arts education.
© Pentera, Inc. Planned giving content. All rights reserved.
Disclaimer