Patricia Mottram Anderson '53
Major: Economics
Current home: Madison, Conn.
Quinnipiac University Professor Emeritus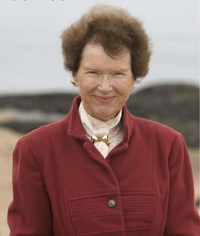 Why I chose Connecticut College:
It was the only place where the interviewer (Mr. Cobbledick) seemed to be in today's world and not in an ivory tower with a head full of cobwebs.
Favorite professor:
Ruby Turner Morris. She brought us into the real world via, for me, working with the carpenter's union and meeting government representatives from New London. That is probably why I enjoyed serving 14 years on the Amherst (Mass.) Redevelopment Authority.
Favorite spot on campus:
The Arboretum, especially the area around the pond. I still visit from my home in Madison every once in a while.
What I liked most about Connecticut College:
Working in the library, the internships of the Auerbach major, the photography developing lab, and the small class size.
---
A flexible annuity lets the Andersons defer a decision on when they'd like the payments from their investment with the College to start. They can determine the date later, based on personal circumstances.
---
My life today:
My life today is so busy that I wonder how I ever had time to work. I paint watercolors and am active in three art societies and a camera club. I exhibit in several shows each year. I attend regular critiques with artists and am a trained photography judge. My husband and I serve on the Greenway Trail Committee in Madison, represent various volunteer groups in the Chamber of Commerce, and sing in our church choir. We have good memories of two trips around the world, including a train ride across Siberia.
Why I give:
My parents and grandparents always gave time and money to help their communities, so I grew up in a giving environment. As college professors, my husband and I knew that tuition did not cover the cost of our education. We wanted to give back. We began with a charitable remainder trust to Amherst College and have just funded a flexible charitable annuity for Connecticut College for the same amount. Income from these funds will help with the property taxes. That will enable us to stay in the family home built for my grandparents and to enjoy the ocean view.
© Pentera, Inc. Planned giving content. All rights reserved.
Disclaimer