Diana Witherspoon Mann-Schnake '57
Giving Back to an Institution That Gave So Much to Her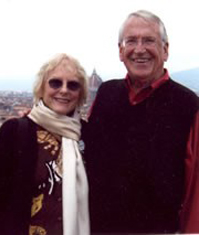 After goofing off freshman year, Diana Witherspoon Mann-Schnake's scholarship was in jeopardy.
Dean Alverna Burdick, a legend to many alumnae, laid it on the line with a much-needed warning: "Diana, you can do a lot better than this! Last chance." Diana took the words to heart. In one semester she went from probation to the Dean's List.
That is why she gives back to Connecticut College today. "Everything that has come to me, from my career to my passions for art, history, and music, are the direct result of the wonderful liberal arts education that I was lucky enough to receive," she says.
Diana has a doctorate in neurophysiology from Brown and began a second career in real estate in the 1980s. She was one of the first agents in Maine to advocate for the rights of buyers. Along the way, she and her husband George blended a family of five children.
In retirement, when the sluggish housing market stalled the sale of their rental property, she and George realized a planned gift was the answer. They transferred ownership of a condominium to a charitable remainder trust to benefit the College. The Schnakes were freed of an unwanted responsibility, and through the trust the College can plan for scholarships for future students. The story comes full circle.
Planned giving is an option Diana suggests others should explore. "We had a challenge, and we were able to turn it into something positive for the College and for us," she says. Both will see the benefits long into the future.
© Pentera, Inc. Planned giving content. All rights reserved.
Disclaimer