Richard H. Goodwin
(1910-2007)
Katharine Blunt Professor Emeritus of Botany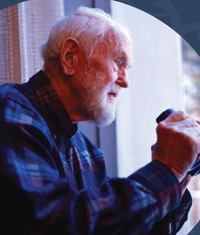 A beloved professor and longtime supporter of Connecticut College, Richard H. Goodwin joined the faculty in 1944 and was active on campus as a teacher and mentor for more than 60 years. He was 96 when he died in 2007. Professor Goodwin was also a longtime supporter of the College. The College recently received his bequest of $250,000 to support the library and the Arboretum endowment.
A lifelong love of botany:
During a trip across the United States in 1924, Goodwin was struck by Minnesota's bleak deforested landscape and decided to go into forestry. "I loved the outdoors and wild places and had thought that by entering that field I might be able to contribute toward the rehabilitation of devastated country," he wrote later. The interest led to a career melding botany and land conservation.
Education:
B.A., M.A., and Ph.D. from Harvard. His doctoral dissertation was on the morphology of goldenrod.
A national leader in land preservation:
Goodwin was a pioneering conservationist, an accomplished botanist, and a founding member of The Nature Conservancy—serving twice as its president. The Connecticut College connection: President Katharine Blunt, who created the Arboretum as a research lab for students in 1931, recruited Goodwin to the faculty 12 years later as its second director. He was intrigued by the possibilities and said yes. Goodwin quadrupled the size of the Arboretum, recognizing land ownership as the most effective method of preservation. He and his wife Esther frequently contributed their own money for these purchases and purchases that expanded other Connecticut preserves. Goodwin was also instrumental in establishing the College's environmental studies program—one of the first of its kind nationally at an undergraduate institution.
The most pressing global environmental issues:
Goodwin believed overpopulation, nuclear energy, global warming, and the water supply were most critical. "We think in terms of the next 25 years," he said. "We don't think of the next 25,000 years."
What can we do?
Live more simply, Goodwin said.
Why the bequest?
Goodwin was passionate about conservation and wanted to help the College preserve the Arboretum, which now encompasses 750 acres. He informed the College in a 1986 letter that he intended to make the gift. "The Arboretum," he said, "has become one of the College's truly unique educational and aesthetic assets."
© Pentera, Inc. Planned giving content. All rights reserved.
Disclaimer