Professor George J. Willauer & the Reverend Cynthia C. Willauer '72
Wanting to Be Part of the College's Success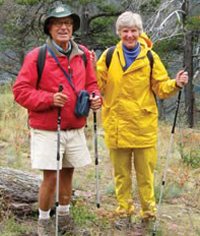 The Willauers arrived at Connecticut College in 1962. George was an English professor, and their home soon became a popular gathering place for students and department faculty—including Professor William Meredith, a Pulitzer Prize-winning poet.
The guests enriched their lives in ways the Willauers never would have imagined. No topics were off limits as students and professors tackled difficult subjects over dinner or afterward in the living room.
One of the Willauers' favorite memories is a trip to Tanzania in 1995 with Professor Marion Doro. They celebrated George's birthday with their students, sitting on the ground eating African food with their fingers and being serenaded by African drummers. At the end everyone joined in the dancing.
"I give to Connecticut College with gratitude for what it has given me and my family," Cynthia said. She is also proud of its environmental leadership.
George, who retired in 2002 as the Charles J. MacCurdy Professor Emeritus of American Studies, gives out of gratitude too. He has enjoyed watching the College grow over the years. "I want to be part of its successes," he said.
© Pentera, Inc. Planned giving content. All rights reserved.
Disclaimer