Rosemary Park Society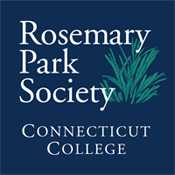 "Hamlet," Ophelia remarks, "There's rosemary, that's for remembrance: pray you, love, remember." Rosemary has been a symbol of remembrance, in ancient Egypt, in Shakespeare's words, and still to this day. What's more, modern research suggests the scent of rosemary may enhance memory. The Rosemary Park Society honors those who remember Connecticut College with a legacy gift. Such gifts might be a gift through a will or trust, a life-income plan such as a charitable gift annuity, designating the College as the beneficiary of a life insurance or retirement plan, or other special planned gifts.
The namesake of the Rosemary Park Society is the pioneering leader who was pivotal in building Connecticut College. As President from 1947 to 1962, Rosemary Park Anastos (1907-2004) was pivotal in building the Connecticut College we know today. During her tenure as president from 1947-1962 enrollment grew by a third, and unsettling world events raised formidable questions about the focus of higher education in America.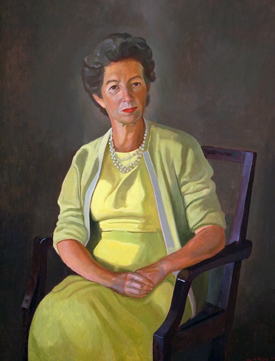 Rosemary Park, as portrayed in a painting displayed in Becker House
With characteristic grace and determination, Miss Park led an ambitious capital campaign that marked the College's 50th anniversary in 1961, guided a major revision of curriculum, and oversaw construction of a dozen new buildings—including the six residence halls of the Plex and the College Center at Crozer-Williams.
Miss Park had an international reputation as a gifted academic and administrator and was known for her sharp observations. "To be young and feminine at 16 is no achievement. To be a respected person at 60 is," she once told freshmen. She urged students to choose a major according to their interests but also to "think what needs doing in the world today."
Miss Park traveled to meet alumni all across the country. Her experiences reinforced her belief that fundraising must be understood to be an educational priority. She left New London to pursue a career as a college administrator and spent many years at UCLA. In 1967 she was welcomed back to campus by President Charles E. Shain. "Connecticut College," he said, "will always hang on to, will always be hung up on, Rosemary Park."
You too can build on the past and make a mark on the future by joining the Rosemary Park Society. If you include the College in your will, establish a life-income plan, or make the College the beneficiary of a life insurance or retirement plan, we will welcome you as a member of this important society. Those who celebrate the heritage of Connecticut College with a gift through a will or another special gift plan are recognized in the Rosemary Park Society. By joining the Rosemary Park Society, you can build on the past and make a mark on the future.
As the rosemary plant improves memory, the gifts by members of the Rosemary Park Society make them memorable. If you have included a gift to the College in your will, need language to do so, would like an obligation free complimentary life-income plan proposal, or seek more information about gift planning, contact the Office of Gift Planning at giftplanning@conncoll.edu or (860) 439-2416 .
© Pentera, Inc. Planned giving content. All rights reserved.
Disclaimer